Today we are doing a Terra Eataly Restaurant Boston Review. It feels like summer night, somewhere in the rolling Tuscan hills where grape vines cover the star calm night. I hear the sounds of Italian music. I believe it might be an old tune of Andrea Bocelli. There is a sense of cheers, and delight. You can smell the smoke of the wood fire oven. Is that thing that makes you walk up the stairs to the restaurant. Right when I entered, a warm smile greeted me. This is not Italy, this is Boston; Terra Boston, a genius Mario Batali concept to make you experience Italy without the long flight.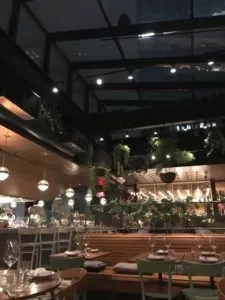 Staff and Restaurant Review
Batali made sure to really give you the Italian vibe. Not only the restaurant has that Italian look, but even most of the employees are Italians. The hostess was more than happy to assist us with the seating within seconds walking in. I really enjoyed the fact that they make you feel like you are home. The staff was always available for everything, even if you had a special request. Moreover, We asked the waiter to suggest some dishes from the menu, and he didn't resist helping us. As we are talking about the menu, I value the fact that their menu was not too long. A good restaurant should always have a concentrated menu. In addition, the lighting is optimal, great for every single picture you are going to take.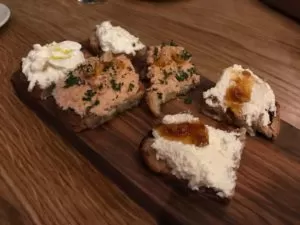 Food Review
Here comes the crucial part. As you can see from the pictures, we start with bruschette. The server suggested to order 3 different types of them. In my opinion, the bruschette with burrata is their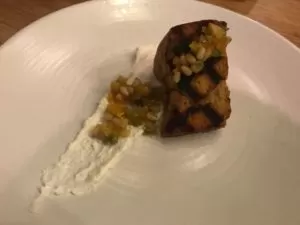 leading appetizer.  The crust of the grilled bread, with the smoothness of Burrata and the taste of the extra virgin olive oil, gives you an incredible after taste. As we move along on the second dish, we have the warm lettuce (CUORE DI LATTUGA). It was the first time I was introduced to this new concept. Furthermore, I was not confident if I wanted to order it but after I tasted it, everything changed. You will be surprised how great this salad is.  Federico Fellini says "Life is a combination of Magic and Pasta" and spaghetti al pomodoro (SPAGHETTI AL POMODORO AFFUMICATO) is coming next.
Terra Eataly Restaurant Boston Review Part 2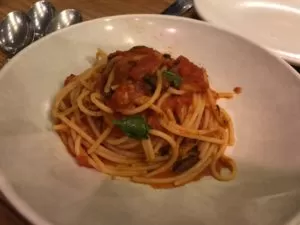 Since Terra is an Italian Restaurant, I was expecting their pasta to be incredible. High expectations seems to always disappoint me and that is what exactly happened. The dish was supposed to be aldente but the chef under-cooked it. It was very difficult to chew and very abnormal in taste. You couldn't understand what you were actually eating. Furthermore, I think you should not order pasta at Terra. Since they have an amazing grill, I thought maybe the steak (TAGLIATA DI MANZO) would be very good too.
This time, I wasn't disappointed. The chef did an incredible job. In addition, The meat was very tender and delicious. It was cooked exactly as we ordered it. They have an amazing grill located at the entrance of the restaurant. No doubt, the grill played a major role in the cooking process. Last but not least, the dessert (OLIVE CAKE) is in class by itself. It is not the best dessert I have ever had, but it is ranked high in my list. The combination of cake with pine nuts is unique in its own way.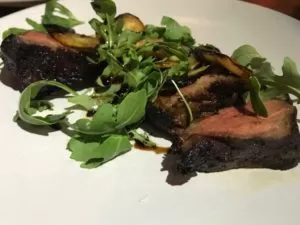 Terra Eataly Restaurant Boston Review Rating 8.5/10
To conclude, I would suggest to order the burrata bruschetta and any type of steak that they cook. Because the other plates are average on taste, it is not worth it to get them. Furthermore, the dishes are not cheap. You are going to need at least 40$ per person, to enjoy a good meal, without including the drinks. If you are looking for a fun Saturday night, Terra is the place to be.