Here is Mrizi i Zanave Restaurant Review! Earlier in 2019, when I was in Albania, I tried to experience as many Restaurants as possible to come up with "10 Best Restaurants in Albania You Must Eat at" and Mrizi i Zanave was on top of the list. Some might wonder; is Mrizi actually the best? YES it is, and here is why!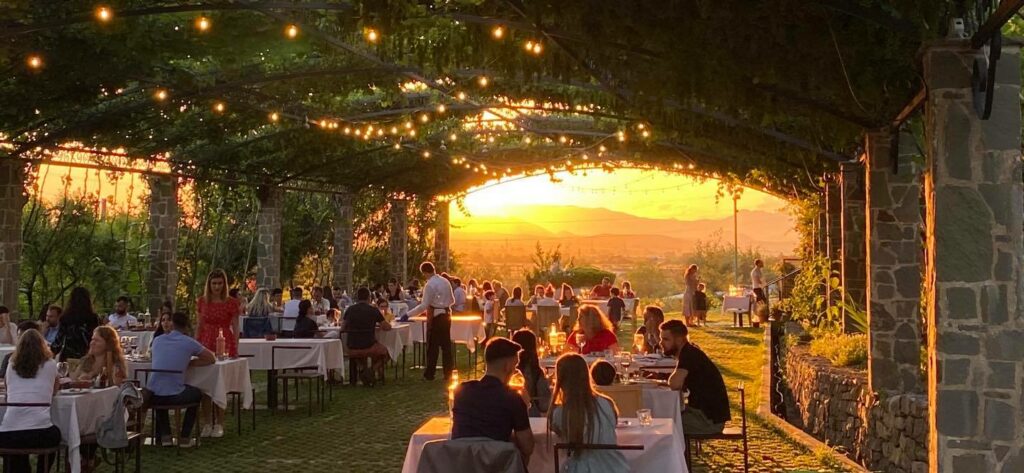 A little bit of History
Mrizi i Zanave was built in 2007 in Fishte, Albania. Fishte is a village of Lezhe and it is located in between Shkodra and Lezhe. What makes this place special is that, one of the most famous Albanian Poetry Authors, Gjergj Fishta, was born there.
Outstanding Food Experience
The genius behind Mrizi i Zanave is chef Altin Prenga. The motto of the Restaurant is "Think Globally, Eat Locally" infusing old traditional Albanian recipes with new cooking techniques and ingredients.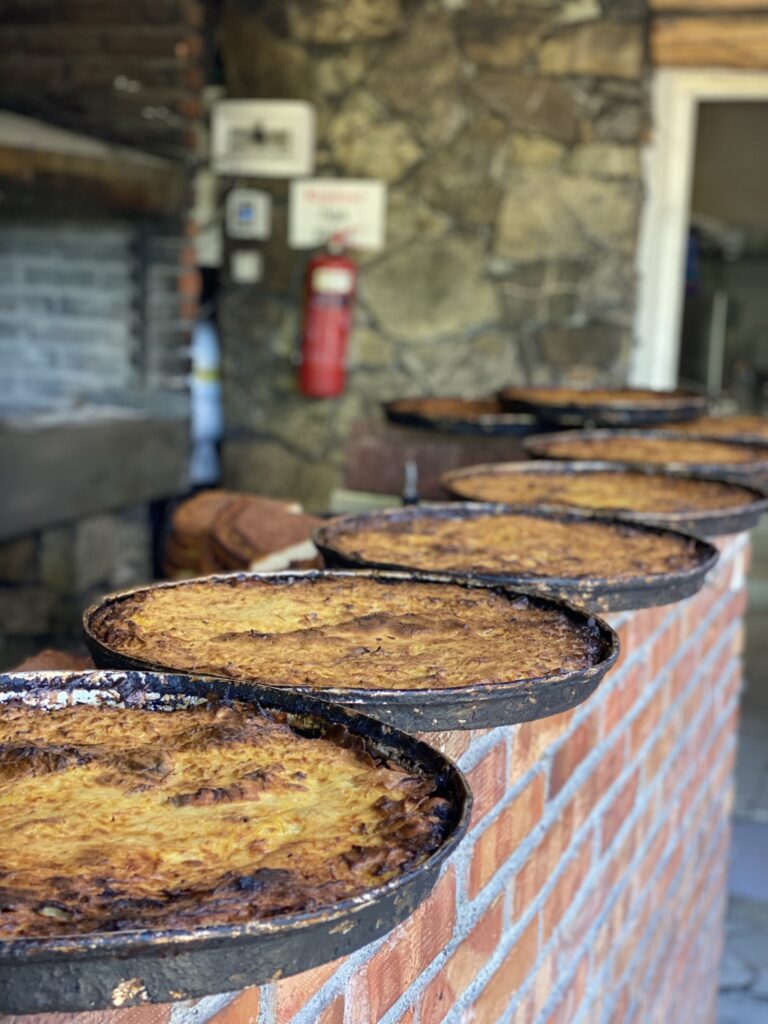 What's incredible about this restaurant is that, they grow everything they cook in their local farm, even the animals. Since Albania has 4 seasons, the menu changes 4 times a year. Altin also made sure to include local farmers in his project. He buys first ingredients from all the local farmers, to use them at Mrizi i Zanave.
One thing that drives people crazy is that you cannot go to the restaurant if you don't have a reservation and here is why. Since the kitchen uses only fresh products from the farm, they need to know the exact amount of people they have to cook for in a day, so that they can minimize food waste. Can you blame them now? I don't think so.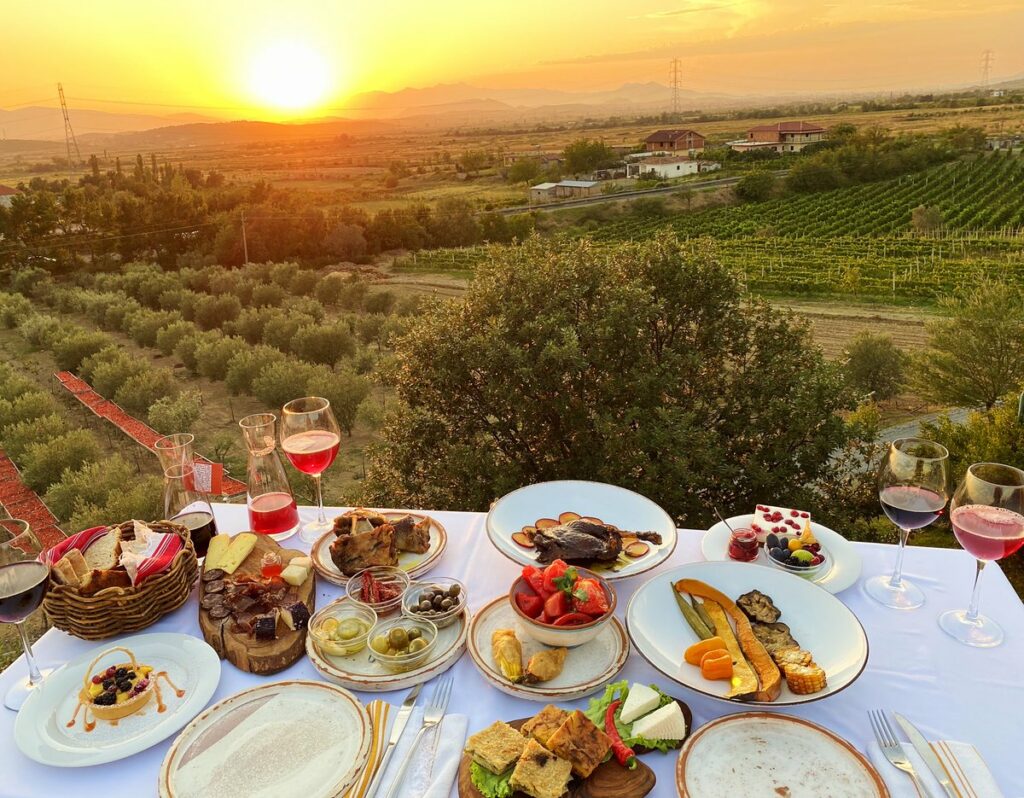 The fact that the menu is seasonal and depends on daily fresh produce, also limits your choices. That is why, at Mrizi i Zanave, the chef decides what will the tapas be for the table. Next, you will not be welcomed with a printed menu, but the servers will present to you the meat menu so you can choose the protein for the table. Ask the server what is their meat special for the day.
Warm Atmosphere
As soon as you jump off the main road, and enter the road to Mrizi, you will notice the huge farms surrounding the place. When you enter the premises, you will notice a beautiful natural plant ceiling covering the parking lot so that your car doesn't get hot during the sunny days of summer.
The stairs to the restaurant are full of fresh flowers. The moment you enter at Mrizi, you will feel the warm atmosphere I am talking about. Most of the time there is live music being played by local artists. To your right, you will notice a small store, where you can buy products for yourself. You will be greeted by the host, who will help you locate your table.
One thing you will notice right away, is that they use both modern and old decorations in their restaurant. That's the first hint that the food, is a combination of both. In addition, Local designers such as Thuaje me Lule, have created art pieces for the interior of the restaurant. They use all natural dried flowers to create art pieces that will live forever.
Recently, they also built a brand new hotel, with the exact same idea, infusing old designs with modern ones. Their design went viral and was featured in many well-known blogs.
Fun Activities at Mrizi i Zanave Restaurant Review
When the food is done, the experience is not over. If you have kids, they will love this activity. Mrizi has created a 'train' that drives around their farm to see from where you ate the food from. Also, You can visit the live animals farm and be introduced to some Cows, Pigs, Ducks, Chickens etc.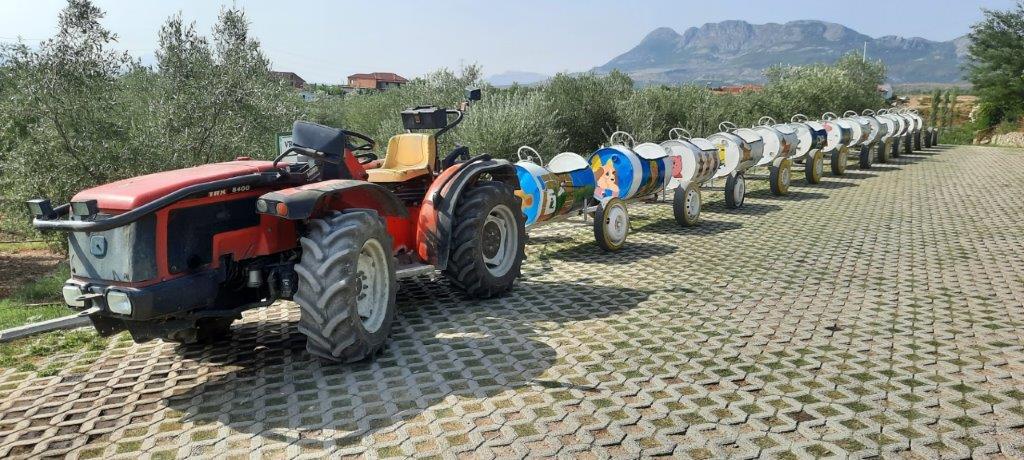 Cheap Cheap Cheap
Next, Believe it or not, all these experiences, including alcohol, come at around 18$ per person. Yes, only 18$, and you will experience some of the best Albanian traditional recipes. And not to mention their incredible dessert menu. I usually order all of them and my favorite is the coffee dessert.
All in All – Mrizi i Zanave Restaurant Review
Furthermore, I highly recommend Mrizi i Zanave! If you are going to visit Albania, or if you live in Albania, you should definitely experience this incredible restaurant at least once. If you are on your way to visit the north of Albania, this will be a great stop for food. From Tirana, the capital, it only takes 80 minutes to get there.
Tips for Mrizi i Zanave Restaurant Review
Make a reservation 1 week in advance if you want to have flexibility on the hour of the day, especially if you are going on a weekend.
Avoid 3-5PM time-frame. The kitchen is transitioning from lunch menu to dinner menu and its not a good time to have the best experience.
Ask the server what is their special meat of the day. He/she will usually recommend what the chef is most confident of.
Do not go without a reservation. They never accept walk ins.
Ask the server to explain whats in your plate, if you do not know what you are eating. They usually give you a very detailed explanation.
If you have any questions, please leave a comment below and I will try to answer as soon as possible.
Did you know that Mrizi i Zanave is my Nr. 1 in the Top 10 Best Restaurants in Albania? Check out the full list here.